Back to Kenya to prepare for the 2023 harvest!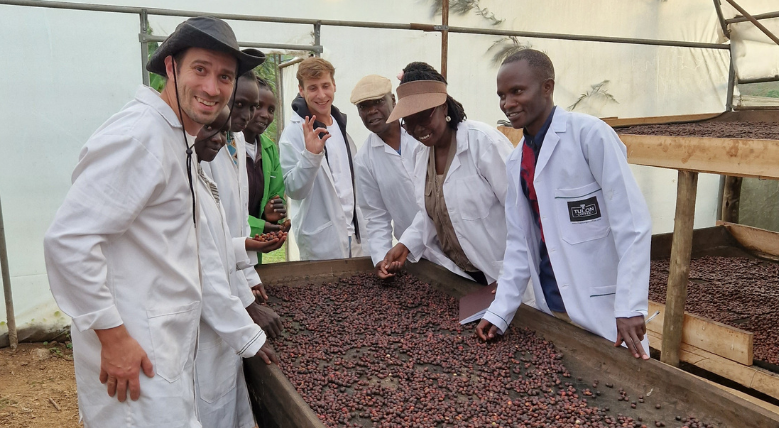 In general, our Kenyan coffees come from small farmers who deliver their production to Wet Mills – Washing Stations – of Cooperatives in their area, or from medium-sized farms that have their own Washing Stations with which we work to improve the quality of the processes and the development of our recipes.
At the end of 2022 we travel to Kenya for the fourth consecutive year to further develop our project to carry out our recipes at source, and our production.
We revisited producers with whom we have been working for several years and with whom we shared our concerns and knowledge about coffee and its production.
We start our trip in the coffee-growing region of NandiWe were very much looking forward to meeting her and to visiting the Chepsangor Hills Coffee estate of Rosebella Langat.
Luckily, we met the producer at WOC Milan, but sharing her work on the farm with her was a great experience for us. Rosebella is a strong and cheerful woman, with great ambition and a desire to learn about new coffee processes. She told us the story of her farm and how she and her husband changed the course of their lives by leaving Nairobi – where they had a good professional position – and returning to their origins, where they saw an opportunity to help change the course of their community. Rosebella showed us how she continues to work on improving her facilities and making her farm more and more sustainable.
During this harvest, together with Rosa, we will be working on the development of three Vanguard Process: Anaerobic Honey Sleeping Bag, Anaerobic Natural Sleeping Bag and Natural Sleeping Bag. We have no doubt that this summer we are going to present you some coffee batches with the name of the star Praecipua from the Chepsangor estate that will be incredible.
The next stop on our trip was the coffee-growing region of Murang'a. the coffee growing region of Murang'a. We visited the Wet Mill y the Edmax farm owned by the farmers Edwin and Mary Kamau. This is our second year working with them, and they are responsible for the Al Jabbah lots.
The prospects for working with Edwin and Mary are very good, their level of knowledge is high in terms of process development.and their lots are very well prepared. In addition, they are very restless and eager to learn and evolve in all stages of the coffee chain. The couple has a Coffee Shop in Nairobi where they roast their own coffee and offer coffees with different profiles and processes.
After the visits in Murang'a we made a stop in Kiambu to visit one of the Dry Mill of another of our Partners, and we headed to Machakos. and headed to Machakos.
Machakos is a region we already know well, last year we were training and coaching the team of George Muiga, responsible for the farm and the Wet Mill of the same name: Oldonoyo Sabuk State, where our Capella lots are produced. George Muiga, responsible for the farm and the Wet Mill that have the same name: Oldonoyo Sabuk State, where our Capella lots are produced.
This year in Oldonoyo Sabuk State we gathered a team of producers from the neighboring regions of Kiambu, Machakos and Murang'a and for one day we did a training focusing on different stages of production: harvesting, fermentation, drying and data management.
The main task was to finding growth points, optimizing state-of-the-art processes and launching our processes with partners and new farms..For this new harvest we expect a qualitative and quantitative growth of our stars in these 3 regions.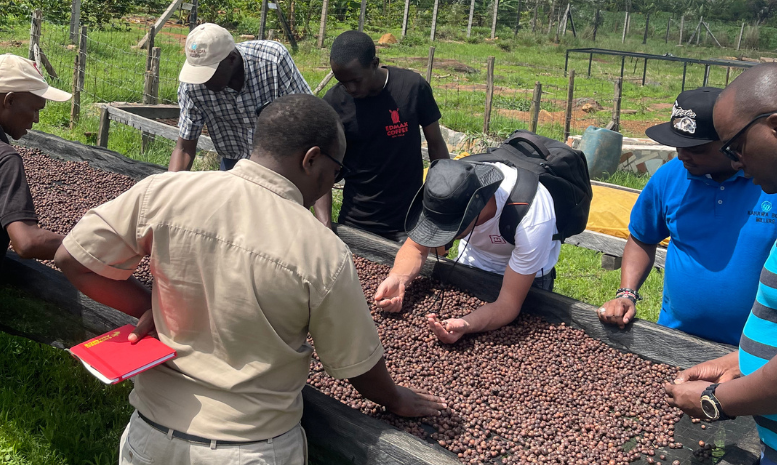 After a day of rest, we set off for another part of Kenya and traveled to the coffee-growing region of Nyeri. to the coffee growing region of Nyeri.
As we have already told you, in this region we work together with KCCE. In case you don't remember what these acronyms stand for, it's '.Kenya Cooperative Coffee Exporters', a cooperative founded in 2009 and supported by the Government to meet the needs of Kenyan coffee farmers. They aim to have more control over the marketing of their production in order to obtain higher net yields and address various challenges faced by the coffee sector related to production, quality, marketing and value added to coffee.
Together with KCCE we developed three projects with different cooperatives in different washing stations, we repeated the Subra, Chort and Shishimai lots.
For the development of the Shishimai batches we have been assisted by Jon Ngunjiri, responsible for Ichamama Washed Station, one of the 17 belonging to a very large Cooperative: Othaya, located in the district of the same name. Jon has been with the Cooperative for more than 20 years. During the visit, we took the opportunity to visit its nurseries, where there are more than 300,000 future plants of the SL28, SL34 and Ruiru 11 varietals.
At the Njuriga Washing Station Njuriga, located in the Nyeri County district, is where we develop our Chort lots. This is the second consecutive year working with them on our project, where volumes and quality continue to grow.
In this station works a great team of people who are committed to quality and innovation without fear of trying new things, learning and evolving. Within this team we have once again shared time with Magi, a great traveling companion, she is the cooperative's accountant, loves to participate in all the processes, is very meticulous and has a great sense of humor! We are always happy to see her.
Chort coffees, specifically one of the Natural process lots, have been among the best coffees on the 2022 Mare Terra menu. This year we are launching two new VanguardDF Washed and Anaerobic Natural Sleeping Bag. We will also increase the production volume of the highly successful Natural Sleeping bag in 2022.
Our visits are coming to an end, and within our route we visit the Ndurutu Washing Stationlocated in Nyeri Central, where we developed the Subra lots. These are some of the favorites of the past harvest in Kenya. To carry out the project, we worked with Francis, the person in charge of the washing station, an introverted, hard-working man with a great vision and responsibility for the structure and development of the project. Francis transmits very well to his team the steps to be followed for the proper development of the station. With the team we visited the washing station and the fermentation area.
We finished the days tasting the first batches of the Pachamama Cooperative, checking batches that were in the fermentation process and we opened a bag or two where we had fermented one of our first anaerobic batches!
As you can see it has been an intense trip with only 10 days in the country, but we are happy with everything we are developing together with our partners in Kenya, we can't wait to start tasting these batches and tell you more!
For the time being, we tell you that from Kenya we have jumped to Ethiopia to continue with the development of our project… We will keep you informed!!!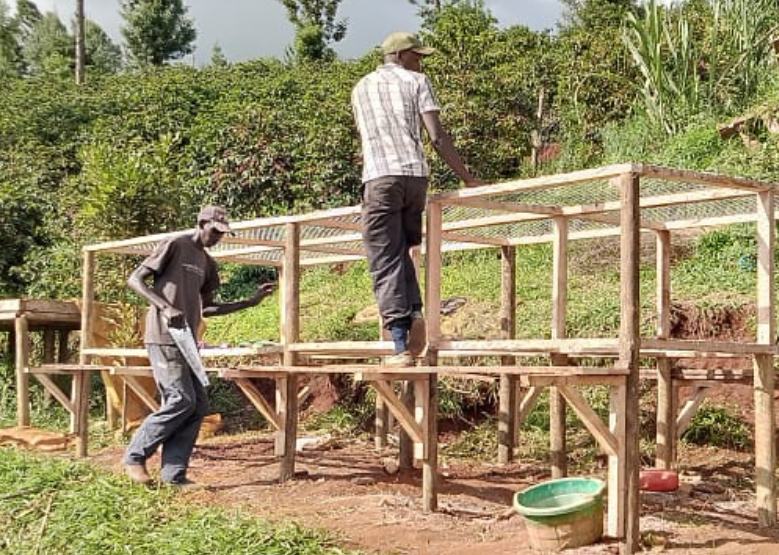 Mare Terra Coffee
"R&D Director.