From June 7 to 9, our Roasters Services had the opportunity to personally meet our roasters and taste the coffees they offer. The visit was divided into several days that served to get to know first hand those who offer our product.
Day 1: Warsaw
The first day they visited Gorilla Coffee. With Pawel, the owner of the company, they talked about the coffee industry in Poland and the most important challenges we need to face. Pawel gave us a warm welcome with his delicious ice cream and coffee.
The second stop was Coffeelab, a roastery that is also dedicated to the sale of coffee and coffee training. At Coffeelab they did a tasting of coffees from the Terra and Mare Terra Range. Constellations and Mare Terra coffees. During the cupping they tasted different coffees such as: Copanti – organic coffee from Honduras, Tata Nahual from Guatemala and Salomon from Ethiopia. In addition, we tasted natural coffees from Colombia – Almeisan C ABFdB and Ni 1225 ACPdA.
It was an occasion to present our samples of Africa coffees in pre-shipment – Elkurud ALIC and Shishimai ALC.
The Coffeelab team and Bartosz from ROST Warsaw gave us very positive feedback and it has been the start to start working together.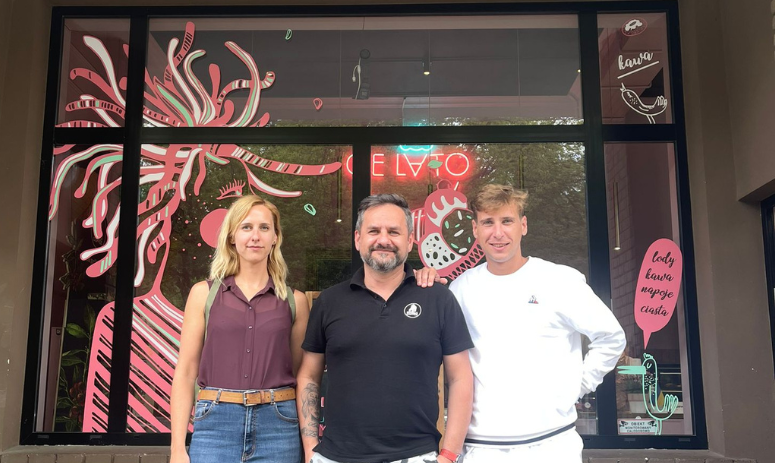 Day 2: Wroclaw
The second day of the visit touched the city of Wroclaw, a city in the west of Poland full of students, tourists and with a particular architecture.
During the visit they organized a cupping at Paloma Coffee Roastery and Anton the owner of Paloma Coffee welcomed them with open arms, during the cupping they got to know each other personally and were able to talk about specialty coffee. The tasting was also attended by Tymoteusz from Etno Cafe and Filip from Figa Coffee.
It was a enriching cupping where we tasted different coffees such as Golden Huila Colombia, Muka Kivu – Rwanda, Sase Rodoo – Ethiopia, also seasonal coffees from Colombia, Jishui C AFT and Almeisan VPO and some samples from Kenya and Ethiopia, fruity and liqueur coffees such as: Wolf 359 FHI, Elkurud AMO, Ni 1225 ACPdA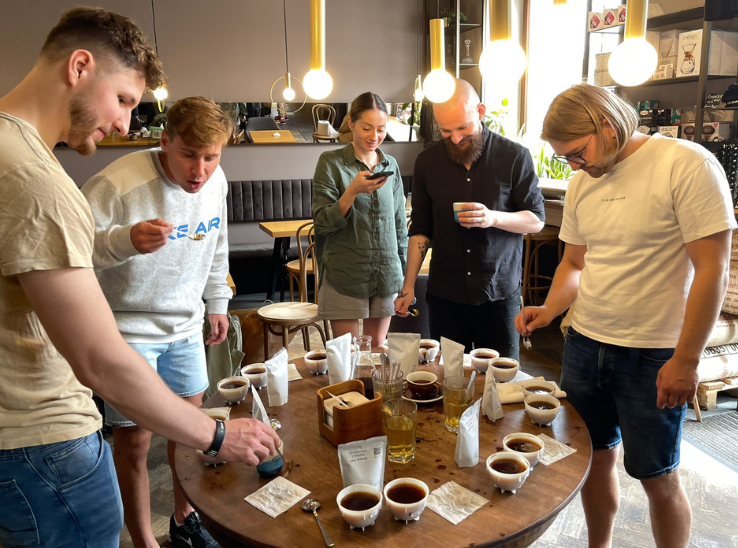 Day 3: Krakow
The last stop of the trip was Krakow, the most visited city in Poland, with the castle, the river called Vistula, full of restaurants, cafes, bars and culture. In Krakow we visited CoffeePro, a coffee roaster very active in the Polish market, with many años of experience. The office, warehouse and toaster is located in a village near Krakow, in a quiet environment.
In Coffeelab we tasted the coffees: Anas Blues – Peru, Copanti – organic coffee from Honduras,
Tata Nahual from Guatemala and Salomon from Ethiopia, during the tasting we also tasted natural lots from Colombia:Propus ACAQ and Ni 1225 ACPdA. Finally, we tasted a fruity Kenyan coffee with strawberry as its key descriptor: Subra AFR.
After the tasting and discussion we learned what CoffeePro is interested in and we hope to be able to satisfy their needs.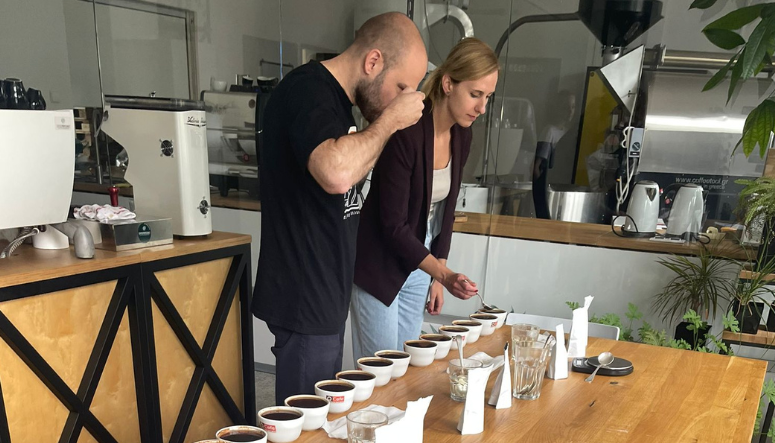 The visit has been an experience, with interesting conversations and a lot of new information with which to develop our offer and services.
Thanks to all partners, customers and friends for their welcome. Hope to see you soon!
Mare Terra Coffee
"Roasters Services East of Europe.