The best coffees from the Daterra plantations
The Daterra Collection range offers coffees of the highest quality.
The essence of this range is defined by the 'Penta' process in its production.
The coffees of the Daterra Collection Range are coffees of the highest quality, selected from the best coffees of the plots that make up the Daterra Estate, processed using the Daterra 'Penta' method. Penta' is the name given to the five stages of the cultivation of quality coffee: planting, harvesting, classification, drying and packaging.
Our Daterra Collection of coffees
The coffees of the Daterra Collection range are continuity coffees available until end of stock, maintaining a stable cup profile and key descriptor.
Specialty coffees with a cup profile with marked character and personality – Interannual stability of cup profile and key descriptor – Profile and key descriptor solid from harvest to harvest – Maximum number of defects from 9 to 12 for organic coffees per 350 grams – Minimum SCA score +85 points – Shipment of samples available all year round – More than four imports per harvest – Penta Box packaging (mixture of inert and vacuum gases) – Convenient and practical format 24.2 kilos, distributed in two bags – Fixed prices per harvest – Availability of contracts per harvest.
Characteristics of arabica coffees and the Daterra Collection range:
Traceability from the farm to the production site
Maximum 9 secondary defects per 350 grams of green coffee.
SCA score from 86 to 89 points
Special profiles of more specific plots
Recommended for single origin
Seasonal coffees
Vaccum format of 24.2 kilos
Plan profits, stock, growth and promotion with our Roaster Service team.
A selection of our green coffees that we import and distribute from Daterra Collection
Ready to roast – Cup varieties and quality validated in our laboratory – Profitable, reliable and faithful coffees to consolidate or grow your market – Discover them now

Publications of our coffee blog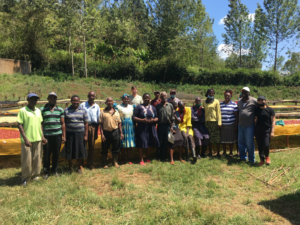 Last December we travelled again to Kenya in order to develop new and exclusive batches of coffee together with producers through the knowledge and experience we have in this country.
Read more