1 star producer in the coffee region of Guji in the coffee origin
Columbae Constellation coffees are exceptional, from the coffee growing region of Guji, Ethiopia, green and ready to roast.
Here's what you want to know about the Columbae constellation cafés
Production is limited, usually microlots
They have well-defined key descriptors with a wide variety.
The descriptors of the fruity group are the most prevalent in this constellation.
Producers are working on different types of fermentations and processes, with natural and washed fermentations being the most applied.
They have an average score according to the SCAscale of 87 to 90 points.
All of the farms producing coffee in the Columbae Constellation are above 1,900 meters above sea level.
In this coffee constellation there are 1 producer from 1 coffee growing district of Guji
Experimental coffees are produced in the main Ethiopian origin crop
Processes and Fermentations
This is the star producer of the Columbae Constellation in the Guji Coffee region of Ethiopia.
Each one has its own history, its own project and its own challenges, but they all have something in common: extraordinary coffees with a very strong personality.
"The motivation of a job well done".
Columbae, Constellations range coffees
Roaster we explain in brief the advantages of roasting green coffee of the Constellations range of Mare Terra Green Coffee
They are: Specialty coffees with a cup profile with marked character and personality – Innovation and constant evolution – Exclusive selection in each harvest – Reference varietals in each origin – Wide palette of key descriptors, level 3 and 4 of the descriptor wheel, well defined – Exclusive batches for a single roaster, 5 secondary defects maximum per 350 gr – Minimum SCA score +84 – Sampling of lots prior to arrival from origin – Two imports per harvest, first available and consistency for repetitions – Batches from 300 to 1.500 kg – Unification of packaging, convenient and practical, 30 kg – Marketing segmented by region, never one lot sold in a region for two roasters.
The Guji Coffee Region is where our coffees of the Columbae constellation are produced.
We explain in brief what the coffee growing region of Guji in Ethiopia is like.
It has 5 coffee-growing districts
The estimated population is 1.4 million inhabitants.
Its surface area is 18,577 km².
The most harvested varietals are 74158, 74110 and 74112
Harvest months are from November to February.
A selection of our green coffees that we import and distribute from the Mare Terra Green Coffee Constellations range.
Ready to roast – Cup varieties and quality validated in our laboratory – Profitable, reliable and faithful coffees to consolidate or grow your market – Discover them now
Publications of our coffee blog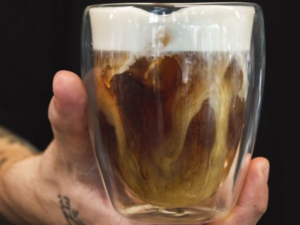 We bring you a recipe for Cold Brew with yerba mate foam, created by our friends from Culto in Uruguay, with one of our coffees from El Salvador: Cerro Campana.
Read more