A coffee of timeless memories
Abyssinia the coffee that defines the profile of Taza from the Guji coffee growing region of Ethiopia, green and ready to roast.
We explain to you what you want to know by heart without time
It is a coffee whose cup profile is fruity
Its key descriptor in aroma and flavor is berries and berries.
Other descriptors that complete its organoleptic profile are floral and stone fruit.
It is an ideal coffee for espresso and filter extraction.
It has an overall SCA scale score of 85 points.
Its acidity is tartaric with a medium intensity.
It has a medium intensity full body and is creamy to the touch.
It is a coffee that is cultivated in the Arábica Nubian coffee geography, in the Ethiopian coffee origin and in the Guji coffee growing region.
It is a coffee of the arabica species and a blend of the Heirloom varietal.
It is a coffee that we have processed with the Traditional Naturalmethod , with an aerobic fermentation and we have dried it in the sun in African beds.
Coffee growers and producers
Hectares with coffee trees
Get to know the work of the coffee growers and producers of Abyssinia Coffee
Abyssinia is produced by a collective of coffee farmers in the Sidama coffee growing region of Ethiopia.
The plantations where our batch of Abyssinia is grown in Ethiopia have been passed down from generation to generation. The coffees are obtained through the Central Ethiopian Auction taking into account two parameters: delight in the cup and respect for the surrounding communities. They buy red cherry from farmers around their washing stations in Yirgacheffe and Sidama, and prepare this coffee for export. They take care of their teams and control their coffee processes from start to finish.
Abyssinia is a coffee of the Terras range.
Roaster we will briefly explain the advantages of roasting green coffee from the Terras de Mare range Terra Green Coffee
They have: A well-defined cup profile and identified with the coffee region where they are produced – A broad spectrum key descriptor that is easy to recognize and adopt by the consumer – Interannual stability of the cup profile and key descriptor – A roast with minimal variations for a systematized profile – Maximum number of defects 10 per 350 gr – Specialty score by the SCA – Variety of processes and coffee regions in each origin – Unification of 60 kg containers to optimize logistics and handling – Price subject to stock exchange – Availability of contracts by harvest – Exclusive marketing territory.
The coffee region where we produce our Abyssinia coffee
We will briefly explain to you what the Sidama coffee region in Ethiopia is like
It has 19 coffee districts
The estimated population is 3.2 million inhabitants
Its area is 12,000 km²
Produces 22.05% of the country's total coffee
8,000 hectares are cultivated with coffee trees.
It ranks 2nd as the country's coffee region
More than 90,000 families are dedicated to coffee growing
The altitude of coffee cultivation in the region is between 1,500 and 2,200 meters above sea level.
The most harvested varietals are 74158, 74110 and 74112
Harvest months are from October to February.
A selection of our green coffees that we import and distribute from the Terras de Mare Terra Green Coffee range
Ready to roast – Cup varieties and quality validated in our laboratory – Profitable, reliable and faithful coffees to consolidate or grow your market – Discover them now
Publications of our coffee blog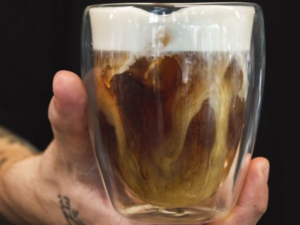 We bring you a recipe for Cold Brew with yerba mate foam, created by our friends from Culto in Uruguay, with one of our coffees from El Salvador: Cerro Campana.
Read more