A coffee of bright light and magic curl
Orgullo Catracho the washed coffee that defines Taza's profile from the coffee growing region of Copán, Honduras, green and ready to roast.
Here's what you want to know about coffee with bright light and magic curls
It is a coffee that its cup profile is chocolatey
Its key descriptor in aroma and flavor is stone fruit.
Other descriptors that complete its organoleptic profile are chocolate and fruity.
It is a coffee that is ideal for its extraction into espresso, capsules and mocha
It has an overall score according to the SCAscale of 81.75 points.
Its acidity is citric and malic with a medium intensity.
It has a medium intensity body and is creamy to the touch
It is a coffee grown in the Dos Océanos coffee geography, in the coffee origin of Honduras and in the coffee growing region of Copán.
It is an Arabica coffee and a blend of the Catuaí, Icatú, Lempira, Parainema and Parainema varietals.
It is a coffee that we have processed with the Traditional Washed method -washed and fermented-, with an aerobic fermentation and that we have dried in the sun in patios.
Coffee growers and producers
Hectares with coffee trees
Honduran Coffee: The pride of coffee growers and producers.
Orgullo Catracho is produced by a collective of coffee growers in the coffee-growing region of Copán in Honduras.
The collective was born in 2012 at the initiative of small coffee producers in the municipality of Corquín Copán. It was legally incorporated on September 30, 2014 with 25 partners. The collective is dedicated to the production and commercialization of high quality coffee, promoting a clean and sustainable agriculture, creating a pleasant work environment and ensuring a better quality of life as well as having a quality in their products, recognized as an alliance committed to small farmers and their families in the western part of Honduras.
Orgullo Catracho a coffee of bright light and magical radiance.
A coffee that became a legend for its quality and now has its own name
Orgullo Catracho is a coffee that comes from the magic of a root and the light of fireflies. Karla dared; she went deep into the ruins of Copán to find the healing root that would save her grandmother and all Catrachos. Orgullo Catracho is a coffee that shines, just like the sun, and it is a coffee that heals, just like the most magical root of Honduras.
Orgullo Catracho is a coffee from the Terras range.
Roaster we will briefly explain the advantages of roasting green coffee from the Terras de Mare range Terra Green Coffee
They have: A well-defined cup profile and identified with the coffee region where they are produced – A broad spectrum key descriptor that is easy to recognize and adopt by the consumer – Interannual stability of the cup profile and key descriptor – A roast with minimal variations for a systematized profile – Maximum number of defects 10 per 350 gr – Specialty score by the SCA – Variety of processes and coffee regions in each origin – Unification of 60 kg containers to optimize logistics and handling – Price subject to stock exchange – Availability of contracts by harvest – Exclusive marketing territory.
The coffee region where we produce our Orgullo Catracho coffee
We explain in brief what the coffee growing region of Copán in Honduras is like.
It has 23 coffee-growing districts
The estimated population is 226,000 inhabitants.
Its surface area is 3,242 km².
Produces 15.23% of the total coffee in the country
37,600 hectares are cultivated with coffee trees.
It occupies the 2nd place as the country's coffee growing region.
More than 7,778 families are engaged in coffee cultivation
The altitude of coffee cultivation in the region is between 1,000 and 1,500 meters above sea level.
The most harvested varietals are Lempira, Ihcafe 90, Parainema and Catuaí.
Harvest months are from October to March.
A selection of our green coffees that we import and distribute from the Terras de Mare Terra Green Coffee range
Ready to roast – Cup varieties and quality validated in our laboratory – Profitable, reliable and faithful coffees to consolidate or grow your market – Discover them now
Publications of our coffee blog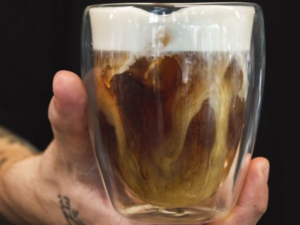 We bring you a recipe for Cold Brew with yerba mate foam, created by our friends from Culto in Uruguay, with one of our coffees from El Salvador: Cerro Campana.
Read more