A coffee with detonating whispers.
Symphalangus the pulped coffee that defines the Cup profile of the coffee growing region of Sumatra - Central Aceh, Indonesia, green and ready to roast.
Here's what you want to know about whisper coffee triggers
It is a coffee with a spicycup profile.
Its key descriptor in aroma and flavor is spicy.
Other descriptors that complete its organoleptic profile are chocolate and caramels.
It is a coffee that is ideal for its extraction into espresso, capsules and mocha
It has an overall score according to the SCAscale of 83.5 points.
Its acidity is citric and malic with a medium intensity.
It has a medium intensity body and is oily to the touch.
It is a coffee that is cultivated in the Insulin coffee geography, in the Indonesian coffee origin and in the coffee growing region of Sumatra – Central Aceh .
It is an arabica coffee and a blend of Catimor, Caturra, Typica
It is a coffee that we have aerobically depulped
Coffee growers and producers
Hectares with coffee trees
The production of this coffee depends on more than 70% of women.
Coffcak is produced by a cooperative of coffee farmers in the coffee growing region of Sumatra - Central Aceh in Indonesia.
It is a women-run cooperative located in Sumatra – Aceh Tengah and Bener Meriah. The cooperative has more than 25 years of experience in coffee production. Beyond producing and marketing premium coffee, it celebrates its value in promoting women and the younger generation of farmers in the coffee business.
Symphalangus is an organic coffee of the Terras
Roaster we will briefly explain the advantages of roasting green coffee from the Terras de Mare range Terra Green Coffee
They have: A well-defined cup profile and identified with the coffee region where they are produced – A broad spectrum key descriptor that is easy to recognize and adopt by the consumer – Interannual stability of the cup profile and key descriptor – A roast with minimal variations for a systematized profile – Maximum number of defects 10 per 350 gr – Specialty score by the SCA – Variety of processes and coffee regions in each origin – Unification of 60 kg containers to optimize logistics and handling – Price subject to stock exchange – Availability of contracts by harvest – Exclusive marketing territory.
The coffee region where we produce our Symphalangus coffee
We explain in brief what the coffee growing region of Sumatra - Central Aceh in Indonesia is like.
It has 3 coffee-growing districts
The estimated population is 1.33 million inhabitants.
Its surface area is 473,481 km².
Produces 60% of the country's total coffee production
80,000 hectares are cultivated with coffee trees.
It occupies the 1st place as the country's coffee growing region
More than 5 million families are engaged in coffee farming
The altitude of coffee cultivation in the region is between 1,200 and 1,500 meters above sea level.
The most commonly harvested varietals are Typica, Caturra, Bourbon, Catimor, Tim Tim and S-Hybrids.
Harvest months are from September to June.
A selection of our green coffees that we import and distribute from the Terras de Mare Terra Green Coffee range
Ready to roast – Cup varieties and quality validated in our laboratory – Profitable, reliable and faithful coffees to consolidate or grow your market – Discover them now
Publications of our coffee blog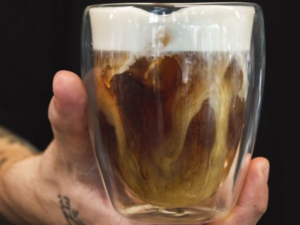 We bring you a recipe for Cold Brew with yerba mate foam, created by our friends from Culto in Uruguay, with one of our coffees from El Salvador: Cerro Campana.
Read more