Fun also leads to success
A unique and unrepeatable coffee by Hertson Bernal
We tell you the story behind the producer's recognition and tribute.
When I was able to give a name to a café, my brother came to mind, Tito for me, Jesús Bernal in formal, and Chucho for everyone in our land. With him I learned to have fun on the long road we had to travel every day to get to school, every other day our fun started when we left the house. There were days when the long road and the fun, "the absent-mindedness", took our time and when we finally reached the school it was time to leave, the classes were over, instead of the entrance, but we learned so much together of happiness and fun that now growing coffee we continue to have fun, and this coffee confirms for me that fun also leads to success.
Jesús Bernal -'Chucho'- a unique lot of coffee from the coffee growing region of Huila, Colombia, green and ready to roast.
Here's what you want to know about this unique coffee
It is a coffee with an exotic cup profile.
Its key descriptor in aroma and flavor is liqueur-like.
Other descriptors that complete its organoleptic profile are raspberry and dark chocolate.
It is an ideal coffee for extraction in filters, cold brew and French press.
It has an overall SCA scale score of 92 points.
Its acidity is tartaric, citric, acetic and complex, with a medium-high intensity.
It has a medium-full body intensity and is buttery to the touch.
It is a coffee that is cultivated in the coffee growing geography of the Andean Ridge, in the coffee growing region of Colombia and in the coffee growing region of Huila.
It is a coffee of the arabica species of the Caturra varietal.
It is a coffee that we have processed in natural with a combined fermentation, dried in canopies.
Coffee producer Herston Bernal
"My dream is to be the best natural coffee producer in Colombia".
I am dedicated to coffee growing, because I have worked in coffee plantations since I was a child.
In 2006 I bought the La Esperanza farm and became a producer.
A critical point, for me, is not to fertilize on time and the fruit does not fill out completely.
It iswith the drying process that we finish our work of coffee production.
Jesús Bernal -'Chucho'- is a coffee from the Uniques range.
Roaster we explain in brief the advantages of roasting green coffee of the Uniques range of Mare Terra Green Coffee
It is important for you to know that they are: coffees that are given very exceptionally – With a cup profile always new and surprising – Result of experiments in R&D at the limit – Only available in some vintages and origins – Palette of key descriptors level 5 in the coffee descriptor wheel – No quality defects – SCA score +90 or simply unpunishable – Sending samples of the lots before arrival from origin – Private sale for buyers – Microlots up to 300 kg – Unification of packaging, Convenient and practical 5 kg vacuum packs (2.5 kg + 2.5 kg) – Marketing segmented by region, never batches from one producer sold in one region to two roasters.
La Esperanza is the farm where Hertson Bernal produces such exceptional coffee.
We explain in brief details of the cultivation of his farm, located in the coffee-growing region of Huila.
Planting lulo – a type of orange – was the seed that allowed Hertson Bernal to buy the La Esperanza farm and exchange oranges for coffee.
Finca La Esperanza was for Hertson Bernal a love at first sight, he believed from the first moment in its potential, he loved its location, a hollow in the eastern mountain range of Colombia.
Time and patient and constant work have made Hertson turn the farm also into his home, where he has built it, bordering his pampered coffee plantations, a new mill, a new dryer, renovate coffee trees, constant evolution and many challenges in his head with his farm pending to be undertaken.
A selection of our green coffees that we import and distribute from the Mare Terra Green Coffee Uniques range.
Ready to roast – Cup varieties and quality validated in our laboratory – Profitable, reliable and faithful coffees to consolidate or grow your market – Discover them now
Publications of our coffee blog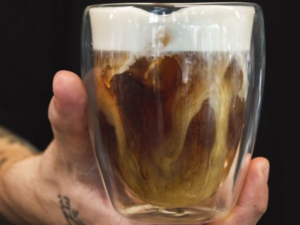 We bring you a recipe for Cold Brew with yerba mate foam, created by our friends from Culto in Uruguay, with one of our coffees from El Salvador: Cerro Campana.
Read more