Love, tenacity, effort and sacrifice, Jaime's gratitude to his mother: Lhaurita.
A unique and unrepeatable coffee by Jaime Figueroa
We tell you the story behind the producer's recognition and tribute.
My mom. A woman who despite all adversities and alone against the world, with love, tenacity, effort and sacrifice gave everything for the welfare of her five children … Which she achieved by placing her hands, eyes and legs behind a sewing machine throughout her life …. I name this café after him in gratitude for so much.
Lhaurita Cantillo a unique lot of coffee from the coffee growing region of Huila, Colombia, green and ready to roast.
Here's what you want to know about this unique coffee
It is a coffee with an exotic cup profile.
Its key descriptor in aroma and flavor is tropical fruits.
Other descriptors that complete its organoleptic profile are yellow plum and white grape.
It is an ideal coffee for extraction in filters, cold brew and French press.
It has an overall score according to the SCA scale of 91 points.
Its acidity is acetic, malic and citric with a medium intensity.
It has a medium-full body intensity and is mellow to the touch.
It is a coffee that is cultivated in the coffee growing geography of the Andean Ridge, in the coffee growing region of Colombia and in the coffee growing region of Huila.
It is a coffee of the arabica species of the Castillo Tambo varietal.
It is a coffee that we have processed in natural with an anaerobic fermentation, dried in the sun in African bed.
Coffee producer Jaime Figueroa
"Family is the most important thing to me."
When I was a child I spent summers in the countryside with my grandmother, those summers awakened in me a great passion for the countryside.
After my university training as an agronomist, I began my career as a coffee grower and member of the cooperative more than thirty years ago.
A critical point, for me, is the drastic climatic changes that we cannot control with both very dry and very wet weather.
Lhaurita Cantillo is a coffee from the Uniques range.
Roaster we explain in brief the advantages of roasting green coffee of the Uniques range of Mare Terra Green Coffee
It is important for you to know that they are: coffees that are given very exceptionally – With a cup profile always new and surprising – Result of experiments in R&D at the limit – Only available in some vintages and origins – Palette of key descriptors level 5 in the coffee descriptor wheel – No quality defects – SCA score +90 or simply unpunishable – Sending samples of the lots before arrival from origin – Private sale for buyers – Microlots up to 300 kg – Unification of packaging, Convenient and practical 5 kg vacuum packs (2.5 kg + 2.5 kg) – Marketing segmented by region, never batches from one producer sold in one region to two roasters.
Lucitania is the farm where Jaime Figueroa produces such an exceptional coffee.
We explain in brief details of the cultivation of his farm, located in the coffee-growing region of Huila.
Thanks to the visionary entrepreneurs of the time, the Department of Huila, where the Lucitania farm is located, began to gain strength and stand out for its production.
Finca Lucitania was acquired by Jaime Figueroa thirty years ago with the objective of making an efficient and productive coffee plantation among the best in the region of Huila.
Time, Jaime's passion for the countryside and his university education led him to become a coffee grower at Finca Lucitania, where high quality coffees are produced.
A selection of our green coffees that we import and distribute from the Mare Terra Green Coffee Uniques range.
Ready to roast – Cup varieties and quality validated in our laboratory – Profitable, reliable and faithful coffees to consolidate or grow your market – Discover them now
Publications of our coffee blog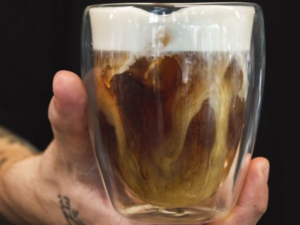 We bring you a recipe for Cold Brew with yerba mate foam, created by our friends from Culto in Uruguay, with one of our coffees from El Salvador: Cerro Campana.
Read more