Two oceans
Guatemalahe
Colombia is a reference country in the production of green arabica coffee for roasting.
What you should know about Colombia as a coffee origin
It is one of the four coffee origins that make up the Andean Dorsal coffee geography.
It has 23 coffee regions, each with its own differentiated cup profile.
100% of its production is of the Arabica species (coffea arabica)
6.41% of the cultivated land, 931,746 hectares, is planted with coffee trees.
The most cultivated arabica varietals are Típica, Borbón, Maragogipe, Tabi, Caturra, Colombia and Castillo.
Its production is smallholder with millions of families devoted to and dependent on its cultivation.
All Colombian coffee has a Protected Geographical Indication (PGI) and six of its coffee growing regions have a Protected Designation of Origin (PDO): Cauca, Huila, Santander, Nariño, Sierra Nevada (Magdalena) and Tolima.
At Mare Terra Coffee we import and distribute all the qualities of coffee produced in Colombia except the lowest, the commercial one.
It is the third largest coffee producer in the world.
The cultivation of coffee began in its territory at the beginning of the s. 19th
Harvest and export coffee throughout the year
The traditional and most established method for processing coffee is called Washing.
Most coffee plantations in Colombia are cultivated between 1,200 and 2,000 meters above sea level.
The standard size of green coffee bags in the country is 70 kilos, in Mare Terra Coffee we pack it, depending on the quality, in 60 kg, 30 kg and 5 kg.
The five main importing countries of Colombian coffee are the United States, Germany, Japan, the Netherlands and Sweden: United States, Germany, Japan, the Netherlands and Sweden.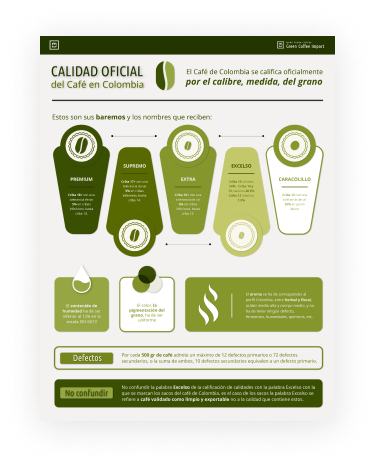 The official quality to be able to negotiate and buy green coffee in
COLOMBIA

Download infographic

3rd
World Producer
23
Coffee Regions
2,2
Million Coffee Growers
0,93
Million Hectares with Coffee Trees
Environmental and biological diversity is the success of the variety of flavors of Colombian coffee.
Coffee cultivation in Colombia
The Colombian topography, very mountainous, basically structured in three mountain ranges, the Western, Central and Eastern Andes, and the Sierra Nevada de Santa Marta, means that coffee trees are almost systematically planted on slopes, which means that their management is manual and therefore smallholding.
Colombia has, in general terms, three ecosystems, continental, coastal and marine, being the continental the environment where coffee is produced, extremely rich in biodiversity and a stable and highly distributed hydric system that generates a situation of relevant suitability for the production of high quality coffee.
The soils where coffee is grown in Colombia are mainly volcanic, which allows the coffee plant to grow in deep soils, with a granular structure, moderate permeability and a good level of aeration.
Colombia is a tropical country, located between 4ºS and 12ºN, where the sun is the protagonist, in the areas where coffee trees are grown, its average solar radiation is between 35.7 and 36.1 MJ m-2 day-1 (radiation in mega joules per m2 per day). Rainfall during the year has a bimodal distribution, with the months of greatest rainfall being determined by the movement of the ITCZ (Intertropical Convergence Zone), with distant amounts depending on the area, which makes it impossible to define a valid annual average for the country. This is not the case with the temperatures, which within understandable oscillations, day – night, altitude and latitude, are recognized between 18.5 ºC and 22.5 ºC as its validated range.
The coffee economy has been relevant since the beginning of the 20th century. XX for the Colombian economy as a whole, and economic and social growth in the coffee region has not evolved at the same pace.
The great challenge that the coffee economy has to face in order to continue being thriving is to transfer its benefits to the social context of the coffee producer, stimulating rejuvenation and advancing towards equity 5-5.
Coffee represents 8% of total Colombian exports.
Coffee's contribution to Colombia's agricultural GDP is 12%.
The average farm size per producer is 2 hectares.
The equity rate in coffee production in Colombia is 7 to 3 (70% men and 30% women).
The average age of coffee growers is between 57 and 60 years old.
Do you want coffee maps of Origin Colombia?
To promote your company, the coffee culture, coffee maps of the entire origin or by coffee regions
Zones and Departments
Colombia is divided into 6 regions, 32 departments and 1 Capital District.
Our green coffees that we import and distribute from
Origin Colombia
Ready to toast – Sorted by ranges – Discover them now
Mare Terra Green Coffee range
Mare Terra Green Coffee range
Mare Terra Green Coffee range
A selection of our green coffees that we import and distribute from Origin Colombia.
Ready to roast – Cup varieties and quality validated in our laboratory – Profitable, reliable and faithful coffees to consolidate or grow your market – Discover them now
Colombian Coffee Growers
The best way to know about Colombian coffee is to listen to those who dedicate their lives to producing it: its coffee growers.
Herstorn Bernal
Andean Ridge | Colombia |Huila
|Guadeloupe
Get to know the coffees of Hertson Bernal, grown at Finca La Esperanza. Herston has been a producer since 2006 and his farm employs 4 to 6 people year-round and 10 to 14 people during the harvest season.
Louis Carlos Guzman
Andean Ridge | Colombia |Huila
|Guadeloupe
Luis Carlos's coffees are grown on his Finca El Diviso located in a mountain range at 1,850 meters above sea level. The producer and his family live on the farm, which has an area of 5 hectares and is entirely cultivated with coffee trees.
Plan profits, stock, growth and promotion with our Roaster Service team.
Colombia, proudly coffee culture and landscape.
Coffee production in Colombia is smallholder, each bean produced is a message of hope, tenacity and work of a family to satisfy the palate of those who enjoy consuming it.
Colombian culture has Amerindian roots, mestizo trunks and working leaves for a better future. Diversity, tradition and evolution are a mosaic impossible to synthesize, which undoubtedly translates to the variety of green coffee beans and their processes, offering a palette of flavors that is equally unbeatable.
Its coasts are wet by the Pacific Ocean, its lands rise up to the sky, silhouetted by the Andes and in a continuous and placid descent, it plunges into another great green sea, the Amazon. In this topography, like infinite veins of a living body, there are an infinite number of bends, landscapes, lights and moments in which the coffee trees will sometimes and sometimes also be found.
Colombian coffee once In the cup it is friendly, sweet, round and recognizable, smelling and tasting it does not leave indifferent and never displeases, it is also a good guide to discover the endless world where it comes from and a faithful ambassador to continue discovering how much quality coffees have to explain.
Related coffee origins
Ethiopia

Kenya
Mexico

The Savior