Arabica Nubian
Ethiopia
The birthplace of coffee
Ethiopia is a country of tradition and evolution in the cultivation of green Arabica coffee for roasting.
What you should know about Ethiopia as a coffee origin
It is one of the three coffee origins that make up the Arabica Nubian coffee geography.
It has 13 coffee growing regions, each one with its own cup profile and differentiated in each one of them.
100% of its production is of the Arabica species (coffea arabica)
1.02% of the cultivated land, 525,000 hectares, is planted with coffee trees.
The most cultivated arabica species are 74110, 74112 and 74158.
Its production is smallholder with thousands of families dedicated and dependent on its cultivation
At Mare Terra Coffee we import and distribute all qualities of coffee produced in Ethiopia except the lowest, the commercial grade.
Ranked as the fifth largest coffee producer in the world
The cultivation of coffee began in its territory at the beginning of the s. XV
Harvests coffee from October to February and exports coffee from February to July.
The traditional and most established method for processing coffee is called Washing.
Most coffee plantations in Ethiopia are cultivated between 1,200 and 2,200 meters above sea level.
The standard size of green coffee bags in the country is 60 kilos, in Mare Terra Coffee we pack it, depending on the quality, in 30 kg and 5 kg.
The five main importing countries of Ethiopian coffee are: Germany, Saudi Arabia, Japan, the United States and Belgium.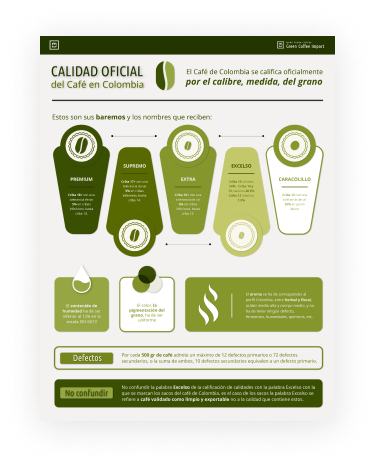 The official quality to be able to negotiate and buy green coffee in
ETHIOPIA

Download infographic

5º
World Producer
13
Coffee Regions
4
Million Coffee Growers
0,4
Million Hectares with Coffee Trees
The fertile highlands of Ethiopia
have optimal conditions for coffee cultivation
Coffee cultivation in Ethiopia
The fundamental characteristic of the Ethiopian territory is the high Ethiopian massif that forms a central plateau with altitudes ranging from 1,800 to 3,000 meters above sea level. Coffee is grown in the fertile lands between 1,500 and 2,200 meters above sea level.
Ethiopia has a wide variety of ecosystems, the most distinctive feature of the country is the Rift Valley that runs through the entire country from southwest to northeast. The first coffee trees grew in this valley, fed by rich volcanic soils and surrounded by a temperate climate.
Most of the soils where coffee is grown in Ethiopia are classified as nitosols – which are highly weathered – originate from volcanic rocks, are deep, well drained and have a medium to high content of most of the essential elements for coffee cultivation, except nitrogen and phosphorus.
The climate in the coffee growing areas of Ethiopia is tropical in the highland regions above 1,000 meters above sea level. Climates can be classified as cold tropical and seasons are defined by rainy periods. There are three main seasons: Bega, Belg and Kiremt or Kremt.
Bega runs from October to February, the long dry season where coffee harvesting and processing takes place.
Belg goes from February to May, it is the season with which the rains begin before the main rainy season, this is the main period for coffee where flowering begins, the initiation of fruits and the first stage of fruit development.
Kiremt or Kremt runs from June to September, is the main rainy season, and is the middle and later stage of coffee cherry development.
Throughout Ethiopia's coffee-growing landscape, temperatures are generally higher during the dry season and lower during the wet season.
Ethiopian Coffee: Coffee Growers and Producers united for a floral and unrepeatable coffee
SMS Plc – Ninfas, is a collective of coffee farmers in the Yirgacheffe coffee growing region of Ethiopia.
SMS Plc – Ninfas, was founded by an owner who had more than a decade of previous experience in coffee production in the Sidama and Yirgacheffe areas. Since its establishment SMS Plc has been a trusted partner for different companies around the world and has been one of the first to play a major role in the specialty market and continues to do so. It has its own coffee processing facility with its well equipped laboratory. SMS has a total of 54 permanent employees and more than 140 daily employees. Commitment, quality and consistency are the virtues SMS has built over the two decades invested in the coffee business.
Coffee cultivation began in the 15th century and since then the economy has been based on coffee exports.
The challenge for most coffee producers in Ethiopia is to be able to obtain better benefits related to the production and marketing of a better quality product, for them there is no specialized institution that offers extension support for coffee production in the country.
Coffee accounts for 60% of total Ethiopian exports.
Coffee's contribution to Ethiopia's agricultural GDP is 25%.
95% of Ethiopian coffee is grown in 'forest coffee' and 'garden coffee'.
The equity rate in coffee production in Ethiopia is 7.5 to 2.5 (75% women – 25% men).
The average age of coffee growers is between 40 and 53 years old.
Do you want coffee maps of the
Origin Ethiopia?
To promote your company, the coffee culture, coffee maps of the entire origin or by coffee regions
Zones and Departments
It is the 5th largest coffee producer in the world, with coffee grown in 5 of its 10 regions.
Our green coffees that we import and distribute from
Origin Ethiopia
Ready to toast – Sorted by ranges – Discover them now
Mare Terra Green Coffee range
Mare Terra Green Coffee range
Mare Terra Green Coffee range
A selection of our green coffees that we import and distribute from Ethiopia.
Ready to roast – Cup varieties and quality validated in our laboratory – Profitable, reliable and faithful coffees to consolidate or grow your market – Discover them now
Producers
Dukamo Family
Sidama | Bensa
We are dedicated to coffee growing, because it is a crop that we are passionate about and that has united us since we were children.
We, the Dukamo Family, are the second generation of coffee growers.
Plan profits, stock, growth and promotion with our Roaster Service team.
Ethiopia, the homeland of coffee
Coffee production in Ethiopia is divided into four 'production systems', Forest Coffee where local people harvest coffee that is in the wild and grows naturally; Semi-forest Coffee coffee grown in forests that are semi-managed by humans; Garden Coffee grown on smallholder plots that are measured in number of coffee trees rather than hectares – the majority of the country's coffee is produced using this system – and Plantation Coffee, Ethiopian coffee grown on large estates.
Ethiopian culture is multifaceted, reflecting the country's ethnic diversity.
It is the African country with the largest number of monuments declared World Heritage by UNESCO, the second oldest nation in the world to embrace Christianity, has a unique calendar, a different time system, a language unlike any other and Abyssinia is the only nation in Africa that has never been colonized, a nation that hides treasures, myths and a great tradition in the cultivation of coffee.
Ethiopian coffee tastes of tradition and manages to make you connect with its land of origin, its aromas, its profiles and its descriptors remain in your memory and are not easy to forget, they are floral coffees such as jasmine, citrus or chocolate among others, Ethiopian coffees offer us great diversity and complexity, it is impossible not to want to repeat one cup after another of this origin.
Related coffee origins
Colombia

Kenya
Mexico

The Savior