The infographic of the Kalita drip gravity method recipe at your disposal. Download and share it. It practices the diffusion of coffee culture.
Our infographics are the result of teamwork with professionals from the entire coffee chain, from producers to baristas, as well as with professors and researchers from other disciplines such as biology, anthropology, geography, physics and chemistry, with the sole objective of sharing a common passion: good coffee and to disseminate this knowledge to anyone who may be interested.
It's a passion we love: share, join, share.
Do you want this infographic customized with your logo and colors?
We have designed the infographics so that we can customize them according to your needs and together we can work in favor of the coffee culture.
This is a drip method in which filtration is done through three holes in the base.
This process produces a very clean and uniform cup due to the channeling of the water. Unlike other similar methods, the flat shape of the basket allows you to play with larger recipes and very good extraction flow.
Roast: light
Grinding: Medium-Coarse
Add 6 grams of coffee per 100 ml of water.
Place the Kalita over the cup or pitcher and place the filter on top. Once in place, moisten with hot water to clean flavors and possible impurities. Subsequently discard the used water
Place the ground coffee on top of the filter and level the coffee bed.
For the pre-infusion pour hot water, between 92-94ºC, and let it rest for 30 seconds (this part is preferably done with twice as much water as the weight of coffee). For the infusion, keep pouring water in a circular motion following a single direction (do not pour in one go, but divide the total amount in about 3-4 times).
Remove the filter and the Kalita and stir the resulting beverage to blend the extraction. Serve and we will be able to enjoy the coffee
Plan profits, stock, growth and promotion with our Roaster Service team.
Publications of our coffee blog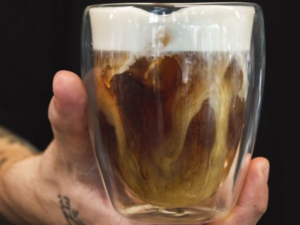 We bring you a recipe for Cold Brew with yerba mate foam, created by our friends from Culto in Uruguay, with one of our coffees from El Salvador: Cerro Campana.
Read more