One more step in our project in Nicaragua

Our trip to Nicaragua was a continuation of our spring tour of Central America.
Nicaragua is one of those countries of origin where our interactions with producers are deeper and more detailed. This allows us to offer roasters a great variety of good coffees.
Year after year, we work together to optimize our recipes, so that the taste is more repeatable and the volume of batches increases without losing quality .
Since the end of last year, when we received news from our partners about the beginning of the harvest, we have known the availability, quality and quantity of coffee we will have this year from Nicaragua. This reassures us and allows us to to work in a short time on the points of growth of the quality of the coffees and on the possibility of industrialization of some recipes. As well as concentrating our main efforts on other important points of our project: education and internal community building.
Internal work with our partner in Nicaragua
Our trusted partner in this coffee origin is Cafetos de Segovia .
One of our challenges this year has been working with the Quality Control Laboratory team. We talked about the model of coffee quality development through the systematization of the coffee milling processes, worked with roasting profiles of samples and conducted a large calibration cupping. On the table there were coffees with very different processes, from different countries of origin, from different harvest years.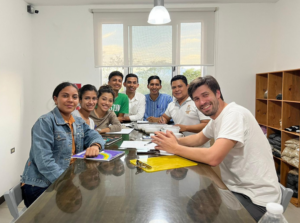 These exercises allow us to see how any recipe affects the flavor change, regardless of the country of origin, how time affects the flavor profile, or which process allows us to maintain the flavor profile.quality for a longer period of time. Tastings of new countries of origin are always an interesting experience for local tasters.
We are sure that such events make the relationship between partners even deeper and stronger, the level of understanding and the quality of communication, even in small details, improve significantly.
Communication with producers
This year we were able to spend more time with both long-time and more current farmers.
We had a good meeting with some new producers who started their first trials with our processes this year, and we also visited other farmers in Mozonte, the highest part of Nueva Segovia.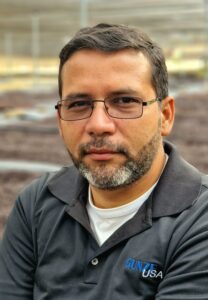 We spent afternoons and evenings at the Agua Sarca farm, which gives its name to our star Deneb, with Carlos Davila, the farm's production manager, our "eyes and hands" in Nicaragua.
Carlos Dávila helps us a lot not only with the processes in the Agua Sarca farm, but also helps us in other farms, encouraging, showing and sharing his experience with those who start working with us. Last year Carlos successfully passed the intermediate level Q-processing certification, this, his practical experience and his great personal qualities make him a valuable partner for whom we have great respect.
Meeting with students of the Coffee School of the Ocotal Technology Center.
The next important step in our project was the initiation of the Educational Project. We started a series of educational meetings with young people, the issue of generational change in coffee is one of the hottest topics not only in Nicaragua, but in almost any coffee producing country. Our main task is to show local youth that coffee culture can be interesting, versatile and profitable.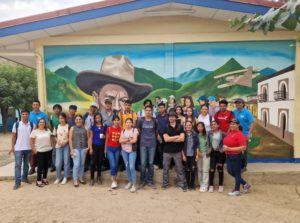 Our meeting lasted almost 3 hours, we tried to show the young people the path of coffee from the farm to the final consumer, through cultivation, processing, preparation for export, logistics, roasting, marketing, sales and preparation. We try to show how diverse and interesting the professional coffee world can be.
This is only the beginning of the story, these meetings will be repeated periodically, they will be developed, both with us and with our partner, in our next visit. So step by step we are preparing the next generation of coffee enthusiasts.
The summary of this trip is satisfactory for us, we have completed all the tasks we had set ourselvesand our development project at source has taken an important step forward, opening a new chapter in the history of partner relationship development. We have begun to building an internal community together where little by little we are advancing with firm steps on the road.
Again this year, wonderful batches of Nicaragua await you, some of them very dear and repeatable and others new and surprising, soon we will tell you more and we will tell you when you will be able to taste them, stay tuned!
Mare Terra Coffee
"R&D DIRECTOR.