What is Q Grader?
The Q Grader qualification is currently the most widely recognized highest international international recognition to which a person working in the coffee industry is eligible. This title is a certification granted by the Coffee Quality Institute (CQI) to people who pass an exam with 19 tests in 9 modules that include cuppings with SCA protocols, triangulations, green coffee and roast classification, organic acid tests and aroma tests.
The importance of this certificate lies in the fact that it allows the cupper to be able to evaluate coffees universally in a standardized manner according to the Specialty Coffee Association. Having Q Grader personnel within a company or organization adds value to the entire production process, from the seed to the cup, seeking optimum quality and professionalizing the coffee tasters so that they can evaluate and qualify the coffee.
The three most important and well-known Q grader programs are the following:
Combo Q Arabica course:

Q Arábica was the first certification of the Q system, launched by CQI more than 15 años ago. The concept was simple: to train everyone in the coffee chain to speak a common language of quality and to be able to evaluate coffee from anywhere in the world in a uniform way. This course has a duration of 6 days which is divided into 3 days of training and 3 days of examination.

Combo Q Robusta course:

This course and certification was developed in cooperation with the Uganda Café Development Authority (UCDA) and launched by CQI worldwide to improve the quality of Robusta coffee. This course combines training and testing to reinforce students' understanding of the Q Robusta grading process while measuring their ability to evaluate Robusta coffee according to the established CQI Fine Robusta standards and cupping protocol. This course, like the previous one, has a duration of 6 days, divided into 3 days of training and 3 days of exams.

Q Arabica and Robusta calibration:

This is an evaluation, once the taster has obtained the Q Grader certification, according to which he/she calibrates the skills every three años. Calibration verifies your ability to accurately assess coffee quality according to globally accepted standards for Fine Robusta and/or Specialty Arabica. The calibration validates every three años the commitment of a cupper to the quality of the coffee.
Q Grader trainings are conducted in centers that are certified as SCA Premier Campus by the Specialty Coffee Association and that guarantee that the center where the training takes place meets the organization's quality standards and is conducted by a Q Grader Instructor. In the following link you can consult the next courses by dates and countries.
How many Q Graders are there?
At present and according to Coffee Quality Institute data, these are the officially certified professionals divided by geographical areas.
Q Arabica Graders

Q Robusta

Graders

Q Arabica Instructors

Q Robusta

Instructors

ASIA

2692

196

4

4

AFRICA

182

38

1

0

NORTH AMERICA

550

11

24

7

SOUTH AMERICA

428

8

2

0

EUROPE

141

2

AUSTRALIA

94

1
Upcoming trainings at Mare Terra Coffee Institute
In Mare Terra Coffee Institute we carry out trainings related to various aspects of specialty coffee, where you can train and learn everything related to this wonderful world. Upcoming Q Grader courses and certifications at Mare Terra Coffee Institute are as follows: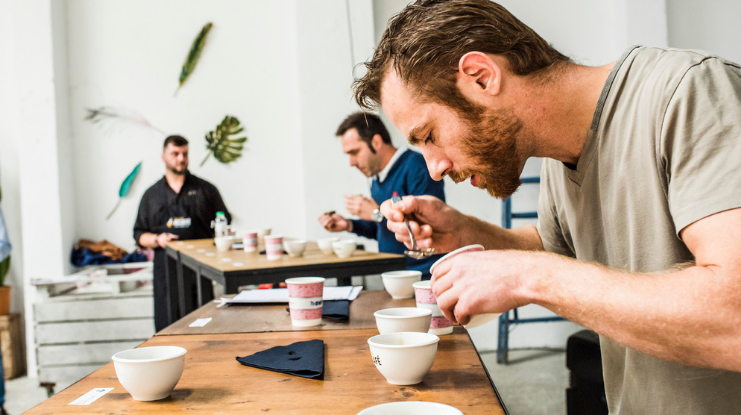 Mare Terra Coffee "Institute Director".