Guatemala,
quality specialty coffees
At the end of February we traveled to Guatemala, this is the second year in which we have developed our project in the country.
In this post we are going to tell you about the producers with whom we started working last year and with whom we are going to continue this year, our visits through the The coffee-growing regions of Fraijanes, Antigua and Atitlán and the qualitative growth in knowledge and infrastructure, which is astonishing.
A couple of years ago, when we started the project, we laid the foundations together with our partner, based on the development of basic coffees, very stable and with traditional profiles of their region for our
Range Terras
range: Kaape, Mixtli, Tata Nahual, Atotonilco and Saqülew.
Last year we started building the second part of the project, so we started with the search for coffee growers – to expand our Constellations Range Constellations willing and able not only to clearly follow the established process recipes, but also to collect data and analyze the results, see mistakes and growth points.
Our main task during this year's trip has been to work to improve the qualitative growth in the stages where there were deficiencies last year.. We have also met new producers who may join our project this year, we will tell you more about them later. Now we tell you about our visits to Fincas Santa Rita, Retana and Pampojilá.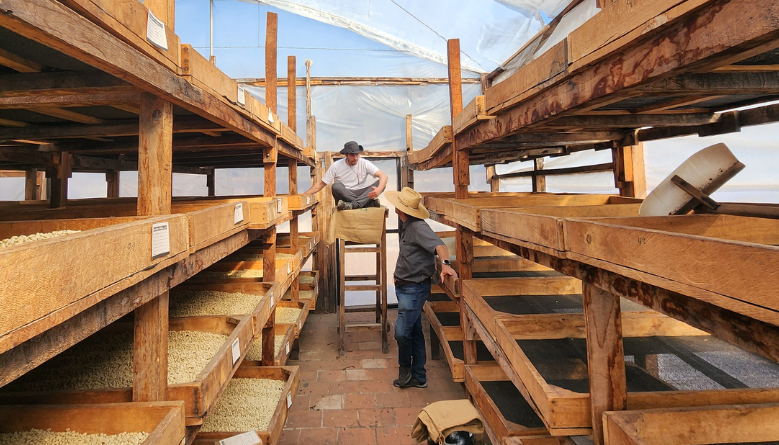 Our first stop in Guatemala was in the coffee-growing region of Fraijanes, at Finca Santa Rita. region of Fraijanes, at Farm Santa Rita, which corresponds to our star Alnitak. Last year this farm produced for the first time a coffee with a natural process, previously the production was only focused on mechanically washed coffees. This year a magnificent patio has been built for the drying of natural coffees, a great advance for this process to be carried out in the mill.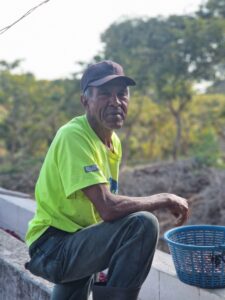 Héctor, who is in charge of the farm's agricultural processes, told us that an impressive job has been done on the farm. renewal of varietals – 22,000 trees were planted, including Pacamara, Catuaí, yellow Bourbon, red Bourbon and SL28, and 32,500 Catuaí and 8,500 Geisha coffee trees are being strengthened in the greenhouses and will be transferred to the land of the farm this year. Therefore, we can safely say that this year the Santa Rita farm is experiencing a renaissance, both in cultivation and processing.
For this years, we are expecting some very interesting lots.
Our second stop was in the coffee growing region of Antigua, at Farm Retana, where we grow our coffees named after the star Alnilam .
This farm is one of the most famous in the Antigua region, with almost a century of history, an estate of 370 hectares, with a good infrastructure and a wonderful team of specialists.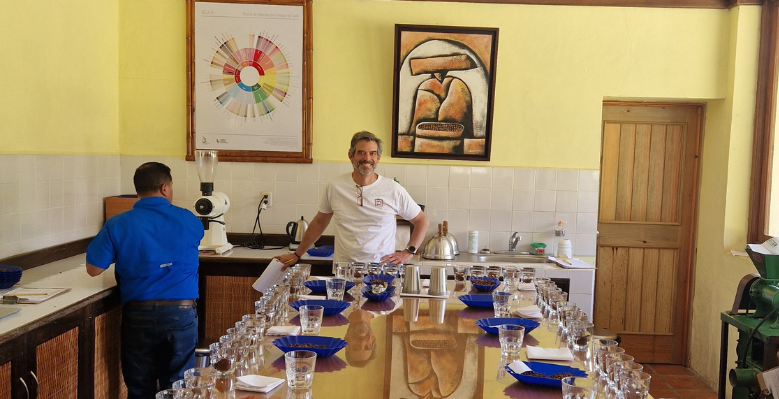 Andrés Felipe Fahsen Rosales is not only the Process Manager at the mill, but also generates and implements ideas to improve the quality and productivity of the coffee trees. Andres is 'our eyes and hands' not only at Finca Retana, as he also helps us control and analyze all our processes in Guatemala.
The third stop of our trip took us to the coffee-growing region of Atitlán. coffee-growing region of Atitlán, specifically to the Pampojilá Farm.
This large farm – 408 hectares – is where our coffees are grown under the name of the star Meissa.
The history of this farm dates back to 1870, this is one of the oldest farms in Guatemala.
One of the current owners, Alex Herrero has been managing it since 2012.
He is now assisted in this business by a wonderful team of specialists: agronomists, biologists, coffee processing and quality control specialists.
This year we will develop our greatest diversity of processes and the most complex processes here, since this is the farm with the best infrastructure, the most efficient and the best quality of the products we offer.This gives us the confidence to know that this year we will be able to offer you a great offer and a different kind of coffee from the Atitlán region.
In general, following the results of the trip, we are more than convinced of the wisdom of having chosen Guatemala for the development of our project.As a country of origin of green coffee, it is very diverse and produces high quality specialty coffees.
Mare Terra Coffee
"R&D DIRECTOR.