Visit to specialty coffee shops in Bucharest, Romania.

Bucharest, the new capital of specialty coffee?
Anyone who has been to Bucharest in recent months probably knows how special the city is. Romania's capital has changed a lot in recent años: it has gone from being a post-communist city with a post-communist atmosphere to a post-communist city with a post-communist atmosphere with a post-communist atmosphere. from an old city to a modern, beautiful and structured place, full of goumets restaurants and…rmets and… specialty cafes.
When you walk through the streets of Bucharest, you get the feeling that you will find high quality coffee on almost every corner. Inhabitants and tourists look for products from all over the world. The coffees found in Bucharest come from all parts of the world you can imagine: Ethiopia, Salvador, Burundi, Costa Rica. That said, we believe that Bucharest can be a great destination for traveling and tasting specialty coffee in its coffee shops.
Our Roasters Services team visited some of the visited some of the specialty coffee specialty coffee shops in Bucharest. This visit was like a journey through the different coffee origins. Each owner, each store and each roaster had its own style, its own design its own style, its design with a unique interior and its personality in every corner.
Visiting our customers
We started our trip in Taste Crafters. Business owner Razvan, is not only our partner, but also a friend. We enjoyed being able to spend time together, chatting while eating fantastic Romanian food and enjoying thenterchange ideas and think of a future together. Taste Crafters is a company with a clear vision of development and a professional attitude. Its cafeteria, called Drophotis located near the largest park in Bucharest, Herăstrău, in a nice residential area. Fingers crossed that Razvan's company grows rapidly and We very much appreciate the visionary style of Taste Crafters, which is so close to our business approach and principles.
Another roastery we visited on our first day was Cube Coffeeshop, a place with a soul of its own: Andrei is owner, roaster and waiter in one person.. Personally, we love this type of business, because they are run by people with an enormous passion for coffee. During our visit we had endless conversations where Andrei showed us his dedication and commitment to specialty dedication and commitment to specialty coffeewhich we are very grateful for.
From Cube we went to Bob Coffee Labwhere we met with one of the owners: Alex, whose story is truly amazing. Alex started working in the gastronomy sector and one day he was taught and took a job. a good coffee. From that day on, he pursued his dream accompanied by a strong ambition to be the best in coffee processing and roasting. Alex's activity led him to win a few competitions, including the 2016 World Café Roasting Champion.
Alex, an amazing man full of hospitality, showed us how he runs his three cafés, located in different parts of the city. he runs his three coffee shops, located in different parts of the city, where hewhere his doors are doors are always open to come in and have a great espresso.
If you want to know how diverse Bucharest is, we encourage you to go also to Pasha Cafewhich is a completely different location and with a different design and approach.. Valentin, who runs this business, is a true coffee enthusiast, roasting the best lots from all over the world. and, at the same time, it has a beautifully decorated coffee shop where no detail is missing and innovates by adding handmade recycled coffee gadgets within the decoration… Pasha Cafe is a place where you can go if you want to take a break from the hectic city and also learn more about the coffee you are tasting, A place where you can learn much more about specialty coffee!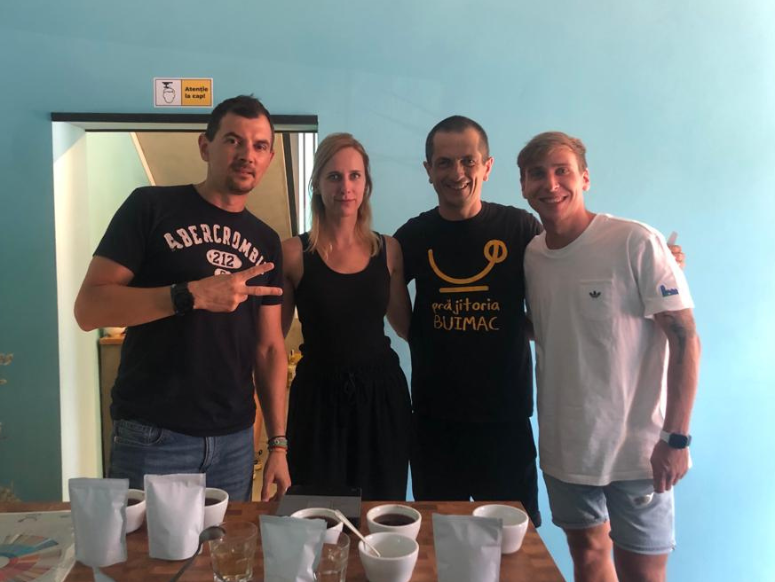 Our roasters finished the visit at Prajitoria Buimacwhich is another example of how passion can create business, not the other way around.. Cosmin is a man who can toasting, tasting and talking at the same time. This energy, this commitment, is something we were delighted to experience. Buimac is a coffee shop in which you can feel how much work and heart has been put into creating it. It is located in a quiet and green area. It seems like you can just enjoy your time there, without any rush, reading your newspaper or a favorite book with a cup of coffee +86 SCA.
Our trip came to an end, but we left with a feeling of wanting more. So it will be time to visit Bucharest againto meet up with all our friends and enjoy this capital, which seems to have been this capital, which seems to be tailor-made for fans of specialty coffees.. We will be back for sure!
Mare Terra Coffee
"R&D Director.